2019 Kansas Surpecell
Large hail near Topeka

Damage

Records
5 in. Hail Near Wichita, Kansas
Damage Cost
Caused $21 billion in damages (2015 USD)
Duration
Jul.5 - Jul.9

Other stuff

Tornadoes
206 Tornadoes
Dead
38 Deaths (+2,086 Tornadic Fatalities)
Wind Speed
135MPH Winds
On Jul.5, 2019, a large supercell formed near the Kansas/Colorado border. It intensified, and began producing large hail, and a few tornadoes. In Colby, a record breaking hail stone fell form the sky and a person rushed to see how big it was. The hail stone was twice the size of a balloon. In central Kansas, a 1 mile wide twister tore apart Andover, taking a path much similar to the path of the 1991 Andover F5 Tornado.
Storm Effects
Edit
In Wichita, 4 people were killed by 5 Inch hail. The hail caused a large amount of damage, which is estimated to have costed $3 billion in damages. 14 people across Kansas got stuck by lightning, killing 2 of the 14 people, and hospitalizing 10. The storm stalled over Kansas, causing 2 days of severe thunderstorms.
Flash Floods
Edit
On Jul.6, the Arkansas River flooded, causing Garden City to be under 9 feet of water, drowning 28 people. The floods became some of the worst floods in the Midwest to date. Additional floods in Dodge City killed a further 2 people. In all, the floods caused a total of $4 billion in damages, making them the costliest floods non-related to a hurricane in US history.
Tornadoes
Edit
Aside from the Andover tornado, only 42 EF3+ tornadoes occurred. The most significant was a long tracked EF4 tornado with 200MPH winds, which stuck, Topeka, Kansas City, Kansas, Kansas City, Missouri, and Joplin, Missouri when it took a sharp southward turn.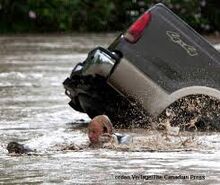 Floods in Garden City